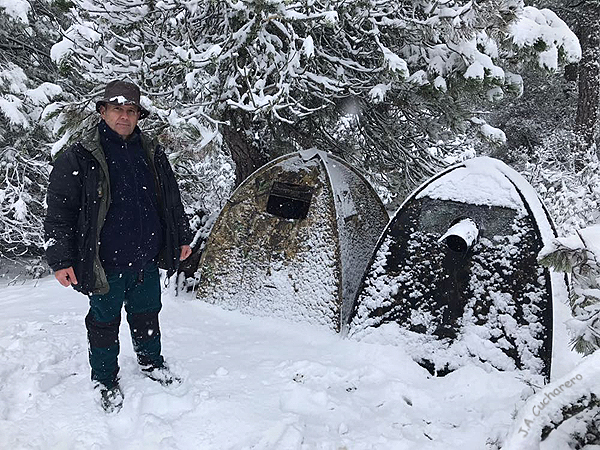 · Profesional desde 1990, cursó estudios de Biología en la Universidad de Granada· Fotográficamente autodidacta, ha publicado 20 libros como único autor de las imágenes, siendo muy numerosas sus publicaciones en libros, revistas, catálogos, y otros tanto dentro como fuera de nuestras fronteras· Ha realizado 7 exposiciones individuales, además de participar en otras muchas colectivas· Premiado en dos ocasiones por la BBC Wildlife Photographer of the Year (el más prestigioso concurso internacional de Fotografía de Naturaleza), tiene en su haber numerosos premios en diversos concursos españoles. Ha colaborado también en la realización de documentales de Naturaleza, algunos de ellos internacionales· Como docente, ha impartido más de 60 cursos completos de fotografía, varios de los mismos desarrollados en colaboración con instituciones como el Museo de Ciencias Naturales de Madrid, Universidad de Granada (Facultades de Ciencias y de Bellas Artes), Junta de Andalucía (Centro Andaluz de la Fotografía, Almería), Diputación Provincial de Granada o Caja Granada, por citar algunos relevantes. Actualmente es Tutor en el MOOC sobre Sierra Nevada organizado por la Universidad de Granada (3ª, 4ª, 5ª y 6ª edición). También ha ofrecido multiples conferencias sobre fotografía, habiendo sido invitado como ponente en variados eventos, cursos, instituciones y colegios: II Congreso Internacional del género Capra en Europa, Parque de las Ciencias de Granada,... y más localmente Caja Rural de Granada, Proyecto Sierra de Baza,...· Como jurado, ha participado en numerosos eventos fotográficos, tanto locales como nacionales, así como algunos internacionales. También ha sido responsable de la coordinación fotográfica de la exposicion del V World Conference on Mountain Ungulates (2009) y comisario de la exposición fotográfica del I Congreso Internacional de las Montañas (2018).
Desde 2005 mantiene una colaboración fotográfica mensual en la Revista Digital Sierra de Baza, de la Asociación Proyecto Sierra de Baza (
http://www.sierradebaza.org/
), en donde en una sección fija de ámbito provincial analiza cada mes una imágen suya desde el punto de vista fotográfico. En base tanto a su trayectoria profesional como a su colaboración en dicha revista digital, esta Asociación lo nombró "Serrano Más Popular del Año 2018". Author
· Professional since 1990, he studied Biology at the University of Granada
· Photographically self-taught, he has published 20 books as the sole author of the images, his publications being numerous in books, magazines, catalogs, and others both inside and outside our borders
· He has made 7 solo exhibitions, besides participating in many other collective
· Awarded on two occasions by the BBC Wildlife Photographer of the Year (the most prestigious international Nature Photography contest), he has won numerous prizes in various Spanish competitions. He has also collaborated in the making of nature documentaries, some of them international
· As a teacher, he has taught more than 60 full courses of photography, several of them developed in collaboration with institutions such as the Museum of Natural Sciences of Madrid, University of Granada (Faculties of Sciences and Fine Arts), Junta de Andalucía (Andalusian Center of Photography, Almería), Diputación Provincial de Granada or Caja Granada, to name a few. He is currently a Tutor in the MOOC on Sierra Nevada organized by the University of Granada (3rd, 4th, 5th and 6th edition). He has also offered multiple lectures on photography, having been invited as a speaker at various events, courses, institutions and schools: II International Congress of the genre Capra in Europe, Science Park of Granada, ... and more locally in Caja Rural de Granada, Sierra de Baza Project,...
· As a jury, he has participated in numerous photographic events, both local and national and international. He has also been responsible for the photographic coordination of the exhibition of the V World Conference on Mountain Ungulates (2009) and curator of the photographic exhibition of the First International Mountain Congress (2018).
At the local level and since 2005, it has maintained a monthly photographic collaboration in the Digital Magazine Sierra de Baza, of the Sierra de Baza Project Association (http://www.sierradebaza.org/), where in a fixed section of provincial scope it analyzes from the point of photographic view one of his images every month. Based on both his professional career and his collaboration with said digital magazine, this Association named him "Most Popular Serrano of the Year 2018".